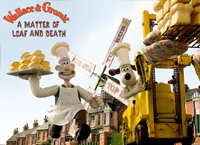 Ah, yes, Wallace & Grommit, possibly the best dog-and-human comedy act since… ever.
This new one (a cereal killer is slicing up bakers just when Wallace & Grommit open their bakery, Top Bun), is well done. Not quite as flawless as The Wrong Trousers or The Curse of The Ware-Rabbit, but very funny.
It's a little rushed is the only thing. While The Wrong Trousers managed to fit an entire B-Movie into half an hour, perfectly executed, and The Curse of The Ware-Rabbit successfully filled a feature-length 90 minutes (well, 85), without feeling flabby, this one feels slightly rushed, and a little unfinished.
What would be lovely would be if Aardman extended it into a full-length feature. It doesn't need too much more story, but with more time they could build up a bit more tension, flesh out Wallace's infatuation with Piella, reveal her villainy more gradually, and give us a proper coda at the end.
God, I'm a moany git. It is still, a lovely, lovely film and you should watch it, forthwith.